Archive for the 'Underscores' Category
Friday, December 19th, 2008
[edit by Hogg] Nooooooooooooooo!  Sorry Haples, those were supposed to be surprises, things for the next [ __ ] video.
Thursday, December 11th, 2008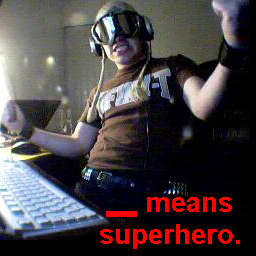 I know this is an old one but I think it's new to actually being hosted somewhere.  EDITORS NOTE: MoNS = Month of NEW Sprays
Monday, November 12th, 2007
Underscores rolled 0xFF-0x00 (30-0).